LAWRENCE, NEW YORK (SEPTEMBER 2022)—This year marks the 21st anniversary of the 9/11 national tragedy that forever changed our country. To honor our heroes on that day and the lives that were lost, Lawrence hosted Patriot Day.
Lawrence Middle School students watched StoryCorp: John and Joe. The video is about John Vigiano Sr, who was a retired New York City firefighter whose two sons followed him into service. John Jr. was a firefighter and Joe was a police detective. On September 11, 2001, both Vigiano brothers responded to the World Trade Center and sacrificed their lives to save others. John and Joe were cousins of Lisa King, Lawrence Middle School ELA teacher. Through the video, the students were able to understand Ms. King's family's loss, the true dedication of her cousins' ultimate sacrifice, and how it impacted everyone.
Lawrence Middle School also held a moment of silence followed by Taps. After, students showed their respect by walking a mile around their school track as they reflected on one of the most horrific events in American history. As they walked around the track, Lawrence Middle Schools' music department performed a series of patriotic songs.
For more information about the Lawrence Union Free School District and the latest District news, please visit www.lawrence.org.
###
Photo 1: Lawrence Middle School students standing in line for their moment of silence Photo 2: Lawrence Middle School students walking a mile around their track to honor the lives lost on September 11, 2001 Photo 3: Lawrence Middle School's music department performing patriot music
Photo 1:
Photo 2: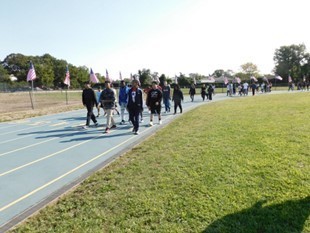 Photo 3: